Yvonne was born in Washington DC of French and Irish parents, educated in Dublin and Cambridge and was an architect before taking up writing. She finds writing the most absorbing activity in the world, but has had many periods when she has felt blocked and unable to write at all, an inhibition she ascribes to having internalised her grandmother's fear of writing things down during the Irish civil war.
She also paints and some of her paintings are about her difficulties with her writing. Her current preoccupation is the mismatch between her characters' inner lives and how they appear to others.
She has published two novels, Silent People: Hearing the Call of the Dodder (2006), about the gulf that exists between people with different world views, and A Case of Wild Justice? (2008) about old age, youthful criminality and stark choices. You can read extracts from her novels and short stories on www.yvonnejerrold.com
First prize winner in Cambridge Writers Group
short story competition 2010
Inspired by Cambridge University's 800th anniversary 'Letters to the Future' project 2009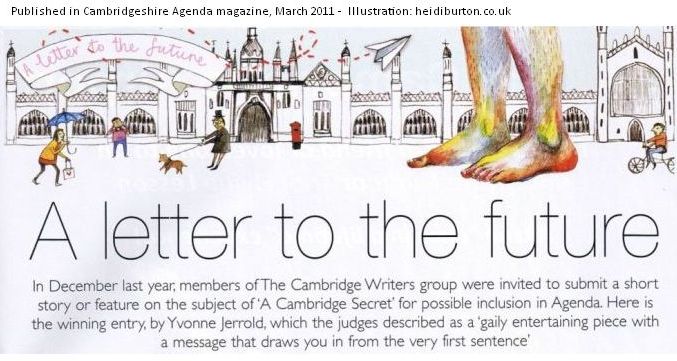 A Group of elderly village residents, who call themselves the Silver Bees, decide to fight back against crime and vandalism in their neighbourhood. Complex moral issues arise.
Published by Troubadour
Second prizewinner in Cambridge Writers' short story competition 2005
Friday was commended in the Bridport 1993 Monologue One Voice Competition